10. Finding
orphaned files
Xenu can also be used to find files or images on your site which are no longer linked to at all – so called orphaned files.
To get an orphan report, you first have to have a link report. Note: an orphan report is only so good as your link report! If for whatever reason your linkreport misses out on real links (for example, because they are dynamically generated with javascript), they will be interpreted as orphans by mistake. Before removing any orphans from your website, always double check your orphan report for these "false alarms").
If you want Xenu to check for orphans, first select this option under:
Options > Preferences > Local orphaned files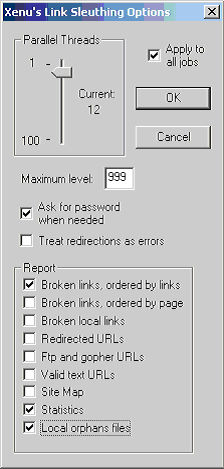 After Xenu has finished the linkscan, you will be prompted with a menu where you can fill in the login data of your FTP access
For example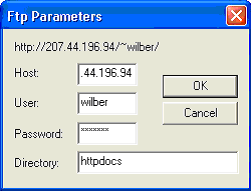 This is the orphan report you will get:
Make sure you specify the remote directory correctly.
Please be careful with removing files when listed in an orphan report. Especially navbar mouseover images will be seen as "orphans", because Xenu cannot find links to it.
(Only when these buttons are added to the htm start page, including their mouseover versions, will Xenu find them – and as a consequence these will no longer be reported as orphans.
As a rule, an orphan report is only so good as a linkreport on which it is based. Any file found on your website which is not linked to is an orphan. If the linkreport, for whatever reason, is not accurate, your orphan report can't be accurate either.
As of version 1.2f Xenu can also find orphans in folders that are not linked to at all ("orphaned folders" so to speak).



0 | 1 | 2 | 3 | 4 | 5 | 6 | 7 | 8 | 9 | 10