"Artists are not always the best interpreters of their own works."
—Ken Wilber

Read more...
"In not valuing critics and criticism we run the risk of regarding "the critic" as something exterior to the community and as something superfluous to our core purpose."
—Mark Edwards

Read more...
Search on Integral World...

An independent forum for a critical discussion of the integral philosophy of Ken Wilber.



RECENT POSTINGS
FROM THE ARCHIVES
Reading Room Top 50

1. VISSER
MY TRIBUTE TO KEN WILBER: Anatomy of a Love-Hate Relationship
26. EDWARDS
THE DEPTH OF THE EXTERIORS: Part 2: Piaget, Vygotsky, Harre and the Social Mediation of Development
2. LANE
THE SYNTHETIC SELF: Unlocking the Genomics of Consciousness Or How Information Theory is Transforming Science
27. LANE
THE SHADOW OF A GOD-MAN: Exposing Sathya Sai Baba
3. MARTIN
THE PROCESSES OF HUMAN DEVELOPMENT: The 33 Fundamental Methods by which People Grow
28. ANONYMOUS
MEDITATION NOTES from the Writings of Ken Wilber
4. LANE
ANDREW COHEN EXPOSED: A Review of "American Guru"
29. FORMAN & HARGENS
THE ACADEMIC EMERGENCE OF INTEGRAL THEORY: Reflections on and Clarifications of the 1st Biennial Integral Theory Conference
5. AUGUSTINE
HINDU AND GREEK DEITIES: An Explanation for the Definite Connection between them
30. BENJAMIN
LOVE, EVOLUTION AND HIGHER VALUES IN DARWIN
6. MARTIN
THE HUMAN GROWTH CONTINUUM: The Eight Dimensions of Personal Development
31. HELFRICH
KEN WILBER'S AQAL META-THEORY
7. ANDERSON
A KEY TO ALL METHODOLOGIES: Communion, Conflict, and Commodity in Ken Wilber's Rhetoric of DIY Science
32. POWERS
INTEGRAL IMMORTALITY: The Kundalini/Golden Embryo Theory of Everything
8. WILBER
RNASE ENZYME DEFICIENCY DISEASE: Wilber's statement about his health
33. PERSICO
ANDREW COHEN AND THE DECLINE OF THE GURU INSTITUTION, Part I: Andrew Cohen Steps Down as a Guru
9. BJONNES
TANTRA AND VEDA: The Untold Story
34. LANE
IS CONSCIOUSNESS PHYSICAL?
10. VISSER
THE WILD WEST WILBER REPORT: Looking Back on the Wyatt Earp Episode
35. VISSER
VIEWS OF HUMAN NATURE: Seven Spheres, Chapter 2
11. PETROVIC
DEPTHS OF EMPTINESS: An Integral Metaphysical Map of Experience
36. MEYERHOFF
SIX CRITICISMS OF WILBER'S INTEGRAL THEORY
12. MARTIN-SMITH
ART, POSTMODERN CRITICISM AND THE EMERGING INTEGRAL MOVEMENT
37. MEYERHOFF
HOLARCHY: Bald Ambition, Chapter 1, Section C: The Four Quadrants
13. SCOFIELD
INTEGRAL ABUSE: Andrew Cohen and the Culture of Evolutionary Enlightenment
38. GROOT
IS KEN WILBER A GURU?
14. ERDMAN
DON'T PISS ON MY LEG, AND TELL ME IT'S RAINING, MR. WILBER: A Late Reflection on Wyatt Earp, Martin Erdmann
39. BECK
STAGES OF SOCIAL DEVELOPMENT: The Cultural Dynamics that Spark Violence, Spread Prosperity, and Shape Globalization
15. MEYERHOFF
POSTSTRUCTURALISM AND POSTMODERNISM: Bald Ambition: Chapter 7
40. BENJAMIN
WHAT MAKES A GURU A GURU?: Andrew Cohen is Responsible for Himself
16. DALLMAN
ON KEN WILBER: Hopelessly New Age, Hopeless for the Humanities, Matthew Dallman
41. LANE
WILBER AND THE MISUNDERSTANDING OF EVOLUTION
17. McINTOSH
THE NATURAL THEOLOGY OF BEAUTY, TRUTH AND GOODNESS
42. VISSER
NEW LIGHT ON THE NEAR-DEATH EXPERIENCE? Unique research of Dutch cardiologist Van Lommel gets worldwide attention
18. DESILET
MISUNDERSTANDING DERRIDA AND POSTMODERNISM: Ken Wilber and "Post-Metaphysics" Integral Spirituality
43. VISSER
INTEGRAL THEORY AND THE BIG HISTORY APPROACH: A Comparative Introduction
19. HARRIS
INDIA: Aryan Patriarchy and Dravidian Matriarchy
44. BENEDIKTER
POSTMODERN SPIRITUALITY: Part I: The rise of a proto-spirituality in the late works of some leading postmodern thinkers
20. ROSADO
WHAT IS SPIRITUALITY? Memetics, Quantum Mechanics, and the Spiral of Spirituality
45. DESILET
DERRIDA AND NONDUALITY: On the Possible Shortcomings of Nondual Spirituality
21. ISHAQ
THE SCIENCE OF SUFISM
46. PANG
STRUCTURATION THEORY: And the assessment of technology
22. MARTIN-SMITH
ON THE FUTURE OF ART AND ART CRITICISM: Beyond Post-Modernism in the 21st Century
47. BENJAMIN
THE ORIGIN OF CONSCIOUSNESS: Wallace in the Light of Jaynes
23. EDWARDS
A BRIEF HISTORY OF HOLONS
48. LANE
KEN WILBER'S EYE: Exploring the Dangers of Theological Reifications
24. LANE
ANCIENT ASTROLOGY: An Adventure with the Bhrigu Samhita in India
49. MEYERHOFF
VISION-LOGIC: Bald Ambition: Chapter 3
25. BLACKER
THE "A" LIST OF ANDREW COHEN: A Catalog of Trauma and Abuse
50. VISSER
THE 'SPIRIT OF EVOLUTION' RECONSIDERED: Relating Ken Wilber's view of spiritual evolution to the current evolution debates

Week of November 28th, 2013, Based on English language essays only (Google Analytics week stats).
2000+ pages | 900 essays | 3000+ newsletter subscribers | 2500+ wilber meetup members
The Integral World website offers an independent public forum for discussion of Ken Wilber's integral philosophy. Founded in 1997. Webmaster: Frank Visser, the author of Ken Wilber: Thought as Passion (SUNY Press, 2003). | Submit an essay for the Reading Room.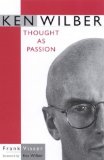 Frank Visser,
Ken Wilber:
Thought As Passion
(Suny Series in Transpersonal and Humanistic Pyschology)
Read Reviews
"It is grindingly, creakingly, crashingly obvious
that, if Darwinism were really a theory of chance, it couldn't work."
— R. Dawkins

Read more...