NOW ON KINDLE: The Corona Conspiracy: Combatting Disinformation about the Coronavirus
INTEGRAL WORLD: EXPLORING THEORIES OF EVERYTHING
An independent forum for a critical discussion of the integral philosophy of Ken Wilber
Today is:
Publication dates of essays (month/year) can be found under "Essays".


Frank Visser
, graduated as a psychologist of culture and religion, founded IntegralWorld.net in 1997. He worked as production manager for various publishing houses and as service manager for various internet companies and lives in Amsterdam. Author of "
Ken Wilber: Thought as Passion
" (SUNY Press, 2003), which has been translated into 7 languages, and of 175+ essays on this website.
SEE MORE ESSAYS WRITTEN BY FRANK VISSER
Why Ken Wilber is wrong about evolution
And Ignores the Evidence For It
Frank Visser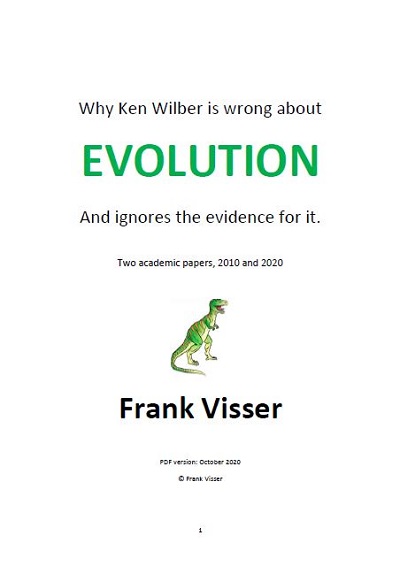 DOWNLOAD AS FREE PDF
1,5 MB, 63 pages
TABLE OF CONTENT
Comments containing links will be moderated first, to avoid spam.