TRANSLATE THIS ARTICLE
Integral World: Exploring Theories of Everything
An independent forum for a critical discussion of the integral philosophy of Ken Wilber

David Christopher Lane
, Ph.D. Professor of Philosophy, Mt. San Antonio College Lecturer in Religious Studies, California State University, Long Beach Author of
Exposing Cults: When the Skeptical Mind Confronts the Mystical
(New York and London: Garland Publishers, 1994) and
The Radhasoami Tradition: A Critical History of Guru Succession
(New York and London: Garland Publishers, 1992).
Susan Blackmore
Kimberley Cang
Born on July 29, 1951 in London, United Kingdom, Susan Jane Blackmore who also goes by Sue Blackmore is a British sceptic, writer, lecturer, academic, and visiting professor at the University of Plymouth.
Blackmore claims that she was an extremely curious girl during her childhood. Her education background includes a B.A. degree in psychology and physiology from St. Hilda's College, Oxford University, and a PhD in parapsychology from the University of Surrey. Not only is she the author of over sixty academic articles, she has also written and contributed to more than forty published books. She is also anactive contributor to The Guardian newspaper and Psychology Today. Her areas of research include paranormal experiences, memes, consciousness, and meditation.
Although she received the Distinguished Skeptic Award in 1991 from the Committee for the Scientific Investigation of Claims of the Paranormal (now known as the Committee for Skeptical Inquiry), she is mostly now known for her major contributions to the study of memetics. She started her research on memetics in 1995 and four years later, her book The Meme Machine was published by Oxford University Press. The book is considered to be her masterpiece and contains a Foreword from Richard Dawkins, the original coiner of the term meme who introduced it in his 1976 bestseller titled The Selfish Gene.
Memetics is founded on the principle of the Evolutionary Algorithm or Universal Darwinism. Blackmore defines meme as information that is imitated, copied from person to person. She argues that memes are selfish information and that they will get copied if they can. As a matter of fact, some memes are good and some are bad and they compete to be copied without caring about the consequences because they can't since they are unconscious in themselves. Blackmore also claims that humans are the meme machines because memes are copied mainly through us. The importance of the theory of memetics is that it offers a new perspective on what makes humans different from any other species and argues that cultural evolution and the origin of humans are not solely based upon the replicators called genes because memes are also replicators. In the article "Consciousness in Meme Machine", Blackmore explains:
"Humans appear to be the only species that readily and easily imitate a wide variety of sounds and actions. This suggests that we alone are supporting this second evolutionary process; cultural or memetic evolution. If this is so, human evolution must have taken a very different course from that of other species once we became capable of imitation. I have suggested that human brains and minds were designed by the replicator power of this new process and that this explains why humans are so different from other species."
Blackmore believes that since memes must continue to evolve, they drive evolution towards bigger brains that are better at copying the memes that are doing the driving, which explains how humans have ended up with such peculiar brains compared to other species. Blackmore made an appearance at the 2008 TED conference where she introduced a new type of meme called teme which is a meme influenced by technology.
Her research and studies on the theory of memetics have converged many times with her studies of consciousness and meditation. Blackmore explains that we cannot really define consciousness and that the closest definition of consciousness is subjectivity. She defines consciousness as what is it like to be something or whether there is an experience to be something; if there is no experience to be something, then that something has no consciousness. According to her, consciousness is a grand illusion. The definition of illusion, however, does not necessarily mean that there is nothing there. If one were to look it up in the dictionary, illusion means something that exists but it is not something what it seems to be, or something that we are intellectually deluded about its nature, which is also what Blackmore claims consciousness to be. In addition, in her 1999 book The Meme Machine, Blackmore explains:
"Once a child is able to talk about his or her self then many other memes can obtain a replication advantage by tagging onto this growing memeplex. For example, saying a sentence such as 'I believe x' is more likely to get 'x' replicated than simply saying 'x'. Memes that can become my desires, my beliefs, my preferences, my ideas and so on are more likely to be talked about by this physical body, and therefore stand a better chance of replication. The result is the construction of an increasingly elaborate memetic self. In other words, the self is a vast memeplex; the selfplex."
Blackmore believes that many people often find it hard to admit that the notion of self is illusory and to lose our own intuitions because we want to be somebody that controls our lives, who experiences a stream of consciousness; we want to live a life, and that is why we cannot give up our illusions. However, Blackmore also shares that there are some methods that can help us let go of the hold of the self. The first one is through scientific discovery and the second one is where the Zen meditation comes in. As someone who has been practicing Chan (which is also known as Zen) over the course of thirty years, she often expresses that the Zen meditation has helped her get rid of the memes that create the false notion of self by giving other memes a chance to rise.
Blackmore identifies as an atheist. Although she practices Zen, she does not consider herself as a Buddhist because she is afraid that "the memes of Buddhism can be as pernicious as those of any religion." She used to consider religion as a "virus of the mind" but changed her viewpoint through her posting for The Guardian back in 2010 where she claimed that religion carries both harmful and beneficial effects on those who believe in it and therefore it cannot be considered a virus. She also advocates for the legalization of drugs, claiming that she takes illegal drugs to get inspiration. She has consumed a variety of recreational drugs such as cannabis, LSD, psilocybin (also known as magic mushroom), ecstasy, special K, DMT, mescaline and cocaine. Nonetheless, her ultimate go-to ones are LSD and those that produce the mind-revealing hallucinogenic effects comparable to LSD. She asserts in one of her publications that without drugs, her scientific works and books would have never existed. Although she is aware of the negative effects of drugs on her body and health, she believes that those are the trade-offs she must make in return for "the scientific inspiration, the wealth of new ideas and the spur to inner exploration."
However, it is important to note that Blackmore also sees drug addiction as a problem. She once mentioned, "the drugs can take you up in a helicopter to see what's there, but you can't stay. In the end, you have to climb the mountain yourself—the hard way. Even so, by giving you that first glimpse, the drugs may provide the inspiration to keep climbing." It seems that Blackmore advocates for legalization of drugs because she believes that there are glimpses of this world and peculiar perspectives which one can only access through the influence of drugs. To put it simply, Blackmore strongly believes that drugs create a feeling of curiosity that may provide an individual with a much higher level of understanding in solving universal mysteries.
Blackmore has been serving as a consulting editor of the Skeptical Inquirer since 1998 and was a member of the editorial board of the Journal of Memetics from 1997 to 2001. Her other famous publications are Consciousness: An Introduction (2003), Conversation on Consciousness (2005), and Zen and the Art of Consciousness (2011).
Blackmore's first marriage was to Tom Troscianko in 1977. They have two kids together; a daughter and a son. They divorced in 2009 and a year later, Blackmore married Adam Hart-Davis, a well-known British author, historian, and broadcaster. In 1995, Blackmore was diagnosed with chronic fatigue syndrome.
Further Reading
2. The Meme Machine, Oxford University Press (May 16, 2000)
3. Consciousness in Meme Machines, www.researchgate.net
PREFACE | David Christopher Lane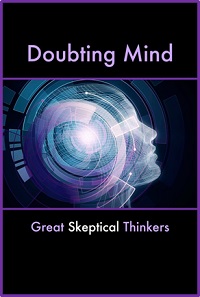 Before the current pandemic altered our day to day lives, the MSAC Philosophy Group had been working on a book entitled, Doubting Mind: Great Skeptical Thinkers, which contained separate essays on a number of notable researchers who champion critical thinking and skepticism when analyzing paranormal claims, such as UFOs, astrology, and various religious claims. The book has now been finished, though it took a bit longer than we anticipated.
The word skeptical has too often been conflated with the word cynical. The former term comes from the Greek word skepsis which properly defined means "to look, view, observe." Or, as Miguel de Unamuno explained in 1924 in his book, Essays and Soliloquies, "Skeptic does not mean him who doubts, but him who investigates or researches as opposed to him who asserts and thinks that he has found."
To be cynical, on the other hand, indicates that the person is "[pre] disposed to disbelieve or doubt the sincerity or value of social usages or personal character or motives and to express it by sarcasm and sneers, disparaging of the motives of others, captious, peevish."
Therefore, it is important to understand that a skeptic is not one who ad hoc dismisses borderland ideas, but is one who is willing to go the extra mile to gather more (not less) information about any given phenomenon. As I have often remarked (to the obvious consternation of certain cult followers), we, humans, are too gullible when we accept miraculous claims without further investigation. We are cheap sluts for the paranormal, believing too easily in conspiracy theories that defy the known law of physics.
There are many reasons why this is so, but I suspect that in a world where everything eventually eats one another to survive (whether it be a vegan eating plants or a carnivore eating meat), any organism that can develop a buffering illusion to survive such a horror show has an evolutionary advantage over others that cannot. This came into sharper relief for me this past week as I watching the British made television mini-series, War of the Worlds, where in one particularly poignant scene a mother who has just witnessed the death of her children at the hands of an alien species realizes that there is no point in continuing to live in such a horrific environment. She opts to shoot herself and the viewer instead of being shocked perfectly sympathizes with her decision.
Nature is a madhouse if looked at objectively and therefore it is not surprising that we have evolved all sorts of mental defense systems in order to live long enough on terra firma to pass on our genetic heritage. Since we are the survivors in this boiling cauldron of eat or be eaten, we have inherited a variety of tools to ward off the true existential dread that can overcome any being that becomes too keenly aware of how this DNA game plays out.
I mention all this as a necessary preface, since no matter how well versed we may become in science (and trained to become good doubters, in the positive sense of that term), we still retain at the core of our beings a deeply emotional component that defies a purely rational or logical way of being. We may act like scientists from time to time, but we are not scientists in the long term. We are vulnerable creatures and our myths and our fairy tales will persist even if we opt for agnosticism or atheism, though they may take on a different color and hue and justifications.
Thus, this book provides us with but a small glimpse of how to think more rationally and critically, despite the sobering realization that we cannot be great skeptics all the time.