TRANSLATE THIS ARTICLE
Integral World: Exploring Theories of Everything
An independent forum for a critical discussion of the integral philosophy of Ken Wilber

Brad Reynolds did graduate work at the California Institute of Integral Studies (CIIS) before leaving to study under Ken Wilber for a decade, and published two books reviewing Wilber's work:
Embracing Reality: The Integral Vision of Ken Wilber
(Tarcher, 2004),
Where's Wilber At?: Ken Wilber's Integral Vision in the New Millennium
(Paragon House, 2006) and
God's Great Tradition of Global Wisdom: Guru Yoga-Satsang in the Integral Age
(Bright Alliance, 2021). Visit:
http://integralartandstudies.com
SEE MORE ESSAYS WRITTEN BY BRAD REYNOLDS
PART 1 | PART 2
Jimi Hendrix Live Shows
In Maui
A Vibratory Sound-Color Experience, Part Two
Brad Reynolds
All Jimi Hendrix images, live concert photos, and lyrics are owned by Experience Hendrix, L.L.C.; used here for scholarship purposes only.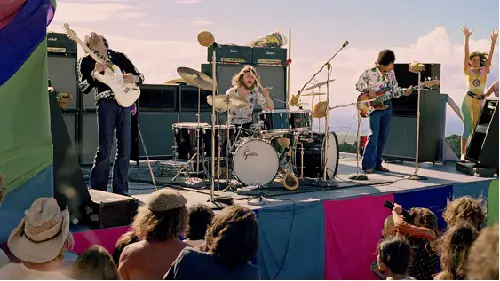 First Show: Maui July 30, 1970
J imi Hendrix took the makeshift purple stage to the sound of the crowd chanting "OM," followed by his bandmates, Billy Cox and Mitch Mitchell both in flowery shirts. With vistas of green rolling hills bespeckled with small groves of trees—at a spot known as "Rainbow Ridge" (according to locals)—the front of the stage was draped in a rainbow of silk colors while flags flapped in the breeze designating the end of the Piscean Age. It was, as Jimi might say, the first rays of the new rising Aquarian Age. The many shirtless men and braless women, almost all with long hair and natural surfer clothes—and no cell phones!—were surrounded by colorful banners on bamboo poles with zodiac symbols indicating where everyone should sit according to their astrological sun sign. This was unlike any concert before… or since.
Jimi was dressed in a silver and turquoise trimmed black Hopi medicine shirt with dark blue pants, a purple scarf hanging from his belt and a purple-turquoise headband reaching down to the mid-back with a leopard-skin guitar strap over his shoulder. Truly, a universal cosmic New Age African-American shaman. The windy day, and perhaps the electromagnetic energy said to be particularly strong at this sacred site, kept all of the flags and banners, flowing hair and dresses, in perpetual motion and delightful dance. During the first show Jimi used his famous white Stratocaster and set of pedals (Wah-Wah, Uni-Vibe, Fuzz Face, Octavia) plugged into a half dozen black Marshall amplifiers stacked behind him. Billy Cox on bass was stage left; Mitch Mitchell was center stage on his Gretsch drum kit with double bass drums; with Jimi stage right.
On stage left two colorfully dressed twin sisters—the "Gemini twins"—were dancing gracefully in abandon while Jimi's music pulsated throughout their sexy bodies, no doubt encouraging the crowd to do the same. For much of the two sets the people seemed so blown away at their good fortune, or stoned out of their minds, they could only gawk with fluttering eyes or nod their heads in ecstasy. The young kids and babies were also dancing and bobbing along thoroughly enjoying themselves. Jimi, at times, encouraged the crowd to get up and move, which they did more readily when the hits were played, like during "Foxy Lady" and "Fire." Yet it was clear all souls and spirits were dancing within and without, whether standing or sitting… just being.
As producer John McDermott explained in the "technical notes," the song order in this collection was slightly modified since the original film footage begins with the fourth song ("Hey Baby"), due to technical difficulties. Thus the CD and DVD begins, after director Chuck Wein's cosmic introduction, with "Hey Baby (New Rising Sun)/In From The Storm," two new songs only recently debuted in concert, whereas "Spanish Castle Magic," "Lover Man," "Message To Love" are the trio of songs that actually kicks off the Maui concert. Nonetheless, for this Rainbow Bridge show "Hey Baby" is an perfect way to begin as Hendrix sings: "I'm gonna spread a lot of love around to everybody and a whole lot of peace of mind to you 'n' you." After a melodic solo intro setting the mellow mood, Jimi calls out: "Hey, gypsy baby, where are you coming from?—I'm coming from the land of the new rising sun," which hit the right note for the gathered tribe of young adults who looked like a band of gypsies with their colored clothes and creative costumes.
The actual opening song, therefore, is "Spanish Castle Magic," another ideal opener since it was known from his second album, Axis: Bold As Love (December 1967), and was a concert staple. Being the first recorded song, the sound quality seems to suffer, particularly the vocals, but once you turn it up it's as good as it's ever been (surpassing the best bootleg versions). Here Jimi is calling us into another dimension by explaining: "it's all in your mind; don't think your time on bad things, just float your little mind," a bright theme for the delightful psychedelic day. Jimi first introduces the song and begins the day by coaxing the crowd to "forget about tomorrow, yesterday, and get into our own little world for a while so we can float about, catch up to the wind." And off the show flies, "hang on if you want to go," he tells us, while traveling on an imaginary dragonfly to experience Jimi's mystical magic, especially during the rocking solo that closes the song by blowing away our little minds in musical bliss.
After a brief pause, "Lover Man" explodes from the band picking up the pace with a driving beat and soaring guitar solos. Modeled after B.B. King's "Rock Me Baby," it sounds like a rock standard everyone had heard, since Jimi becomes a man on the run from his lover's husband who's coming in through the front door as he grabs his "running shoes… [to] get outta here as fast as I can." Yet by the chorus of ascending solos it seems Jimi's guitar has morphed into the lover man himself coming to musically make love to everyone with notes of ecstasy: "Here he comes, here comes your lover man! Here he comes, now, here comes your lover man!" The lead runs are fast and furious; away we go! Our lover man is here with a new message to love!
Next comes a newer song, "Message To Love," but still one the crowd should already know because it was on the recent Band of Gypsys album released earlier that year (in March). Now Jimi's guitar continues taking flight with extended solos as "a reborn man… talking about love." This funky R&B groove encourages a woman to escape her lover's abuse and realize "in the eyes of God we're all children to Him." It's a song of inspiration, of women's liberation, encouraging everyone "to find your talent and work hard in your mind until it comes alive," Jimi's main message of love for all. Only then can we change the world for the better. The ascending guitar lines closing the song seem to float our minds even higher following those colorful banners flapping in the gusty breezes in the valley of the dormant volcano.
Next is when "Hey Baby" appears in the actual order of the set list (which now has been moved up to start the CD and DVD version). Now we're entering New Age territory, the first rays of the New Rising Sun, as Jimi explains in the song's title. "Hey Baby (New Rising Sun)" has always been one of my all-time favorite Hendrix songs, mostly because it seems he is talking about his own mission to bring enlightened peace and love to our planet and her people. Although the singer is being visited by a cosmic goddess expressing this as her mission, it seems to actually be Jimi himself urging the audience to come along and open up since "we're gonna go across the Jupiter sands, and see all you people one by one; gotta help your people out, right now," the guitarist assures us. The light of higher understanding is dawning with the new rising sun, a symbol for the Supreme Being (in Jimi's words), awakening the mind to a new day, a New Age. Listen to his smooth guitar, what one reviewer called "a gorgeous, iridescent guitar tone like a sentient waterfall," leading the way creating a beautiful melodic soundscape before shifting gears into its mystical lyrics urging everyone to come along. It's a beautiful vision.
What else are we going to do? It's up to us, as Jimi would say. Our world is a mess, with all of its wars and bombs, racism and mind games, which is why the guitarist immediately segues into another new song, "In From The Storm," a driving tour de force where he viciously attacks his Strat squeezing every ounce of energy from his strings seeking refuge from the storm of society's troubles. He yearns for his lover (or "the power of God"?) to bring him in and escape the "cryin' blue rain tearing [him] up." The band was fully in synch now: Billy laying down strong bass runs, Mitch rapidly crashing his cymbals and stomping his drums as Jimi wails sonic explosions from the stack of Marshalls behind him. The crowd is woke now!
After catching his breath (and tuning up), Jimi cozies up and gets all sexy, dedicating this next number to "that little girl over there called [Pat] Hartley [the female lead in the movie and close friend of Jimi's from New York]"—"Foxy Lady" (oddly misspelled as "Foxey Lady," an Experience Hendrix faux pas they continue to perpetuate). Now Jimi pulls out all the stops, doing his full chitlin' circuit theatrics, from tongue wags, guitar ejaculations (on his knees), even the classic teeth playing and other gymnastics that only Hendrix can do so gracefully. Jimi uses his whole body to evoke sounds and feedback, unlike any other guitarist, twisting and turning notes from every wave of his hand. Thank God we have a blistering multi-camera edit of this song on film; see the above YouTube, for words alone could never describe the energy Jimi puts into squeezing every possible sound from his electrified guitar. There wasn't a woman in the crowd who wasn't turned on by the time he was done; probably many of the men too. Or so it seems to me. I love his cute looks and finger pointing at ladies in the crowd, laughing as he wipes his brow bringing the orgasmic song to a close.
Time to come back down to earth (sorta), as Jimi next introduces a "slow blues" with a rambling stoned story of someone left at the train station waiting for his train to come in, with a knapsack on his back, though he's not sure what the song is about, calling it "Get My Heart Back Together," which is now known as the incredible "Hear My Train A-Comin'," a tour de force in Hendrix's concert repertoire. Indeed, perhaps no one song (except perhaps "Machine Gun") evokes the full range of Jimi's guitar pyrotechnics as does this mighty psychedelic blues. The version here is outstanding. Your train is a-comin' to take your ego-mind away—do you hear your train a-comin'? Do you experience ekstasis yet?
Slowly starting up by chugging down the tracks, the guitar-train begins to pick up speed with penetrating notes of feeling as the singer waits for the train "to take him away from that lonesome town" where his girl doesn't love him anymore and people put him down. "Tears are burning me down in my soul," he tells us, as the music ascends to a higher ground for he "hears my train a-comin'," as the intensity of the solos increase. We are now in full flight, hearing the train taking us straight into the stratosphere of electric bliss as Hendrix masterfully bleeds his guitar with yearning blues. The whammy bar tremolos are in full effect as if a train whistle is clearing the tracks for our mind to follow the music wherever it goes. The song basically tells us about Hendrix's life story, leaving his hometown in Seattle, as he sings, to "trip out and be a Voodoo Chile, even try my hand at being a Magic Boy," until he goes back to buy that town as a rich and famous man. Perhaps if you make love to him one more time, he "might even give a piece to you." It's a fitting tale setting the stage for his next song after the West Coast Seattle boy, the ugly duckling has become a full-blown swan, a world-famous rock star, a blues-tinged voodoo priest here to make love to you with his guitar sounds and possibly enlighten your mind. Hendrix's train has definitely arrived. The Voodoo Child is here.
The Wah-Wah pedal opening to "Voodoo Child (Slight Return)" pounces into one of Hendrix's most popular and rousing songs, an anthem revealing the spontaneous freedom and god-like superpowers he has at his fingertips transforming sound waves into mind-blowing ecstasies. The intro is like a crack between worlds, the medicine the shaman uses to transport you into another headspace and today Hendrix was using his full powers. The way he crashes the chords then throws his hand in the air while his fingers continue hammering the fretboard to keep pushing the notes and energy forward is unlike any guitarist before or since. Once again, thankfully, the film footage and amazing sound quality captures the entire stupendous display. Chopping down mountains with the edge of his hand is exactly what it sounds like this Voodoo Child is doing. Billy and Mitch are driving him right along to further heights with their fully in-synch rhythm keeping him grounded on the stage (or on the Earth). The Uni-Vibe echoes and feedback creates swirls of energy, yet Hendrix masterfully keeps it all under control while skirting past the outskirts of Infinity. The euphoric highs are better than drugs, or even sex, for it's all in your mind. At one point the excitement or energy, or both, moves Jimi to his knees, bending backward while his fingers keep the music pulsating at full volume never missing a beat. The crowd was ecstatic, all of them: women rockin' out, men dancin' and groovin', kids in awe. You can't hear music like this anywhere else other than at a Hendrix concert—go see and hear for yourself!
Oddly, Jimi never got around to apologizing for taking up our sweet time (the second verse of lyrics), as if there is anywhere else we would rather be. With head signals to his band, he calms the torrent down with a quick talk to Billy (probably about what's next), as Mitch takes a short drum solo before they tear into "Fire," another popular hit single released in 1969, so the happy crowd rose to their feet to dance some more to the hot driving beat. "Baby let me stand next to your fire," Jimi croons. Sex and electricity: nice combo! The solo feels magical, something you hear nowhere else: fast and ferocious but with lots of soul… then "ALL CAMERAS STOPPED" as the music plays on. No problem, just close your eyes: the real show is inside anyway.
This creates an opening for the immediately recognizable "Purple Haze" riff, another crowd pleaser built around the "Hendrix chord" (the dominant 7♯9 chord), one of his first hit singles (released in March 1967). The psychedelic anthem is a perfect platform to display Jimi's amazing guitar wizardry. Everyone knew it was code for LSD which is why Jimi keeps saying, "you've got me blowing my mind, is it tomorrow, or just the end of time?" Hendrix often played "Purple Haze" in concert to bring people to their feet and bridge the gap between the stage and audience. It is the song that followed the majestic "Star Spangled Banner" at Woodstock (highlighted in the recently released Woodstock movie) sending everyone into the stratosphere, often closing his concerts. The LSD-laced lyrics also allows the Electric Gypsy to remind everyone once again: "it's all in your mind," yet, as he once reassured us before on his first album in another song ("Are You Experienced?"), that doesn't necessarily mean stoned… but beautiful. Hendrix ends the swirling shades of purple haze with some more teeth playing to get that hard-edge sound out of the dangling notes, even tossing in a short phrase from the "Star-Spangled Banner," before closing in a whirl of feedback and drums. The first set ends with humble "thank-yous" and a sweet blessing of "peace be with you."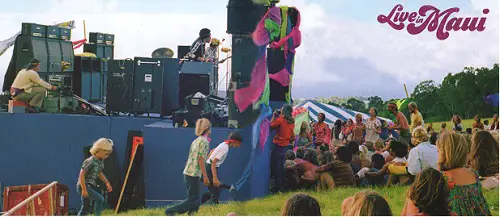 Second Show: Maui July 30, 1970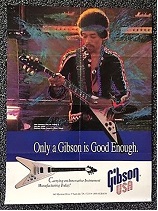 A fter spending some time in the rainbow tent erected as the backstage "green room," reportedly drinking some beers and smoking pot, after about 45 minutes Jimi Hendrix took the stage once again. The first set was primarily what the band had been playing during the recent Cry of Love Tour, but the second set was more improvisational, playing more for himself as much as for the audience. Almost all of them were new songs and slower instrumentals, therefore offering more space to stretch and see where the energy would take him. In the second show, Jimi is playing his black Gibson Flying-V guitar bringing a futuristic space-age look to the stage as well as to the sound (Gibson has been proud of this moment ever since using a photo from the show for their ads). Unfortunately, for some reason, the sound quality to the second show is inferior. Although the remastering has tried to compensate, there's only so much that can be done (yet, again, this version sounds better than the bootlegs). In particular the vocals sound distant and muffled, so only the guitar breaks through, as usual, so the instrumental and solo passages are the highlights, which is how it should be anyway.
What a drag though: here we have the world's best headlining rock act who is building the world's best recording studio in the heart of New York City, yet he's saddled with this slapdash festival sound far below even the standards of the day. In fact, Hendrix's amplified sound would set the standard for electric rock music and recording throughout the following decades, in the studio and on stage (since everyone else was trying to catch up with him). What a shame he didn't live long enough to benefit from the revolution he started, for he would have been on the cutting-edge in rock music, including its stage theatrics, far into the future. Alas. However, if you were there on that breezy beautiful day, you probably wouldn't have noticed, agreeing instead with photographer Brian Byrnes: "It was a gift from God to me" (as he explains in the documentary).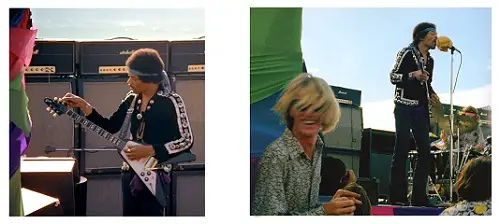 In this case, the longer instrumental jams allow Jimi to lift us up to some heavenly sweet spots, enacting some of his more beautiful and sophisticated playing… yet, sadly, they also give us a hint of the direction his music might have been heading had he lived (Jimi Hendrix was dead within six weeks). He was experimenting with jazzier, more symphonic sound paintings enticing the soul and mind, not just rocking the body. Although Mitch did re-record his drums in 1971 for the songs included in the Rainbow Bridge movie (most from the first set), today, however, we don't need to worry too much about the perfection (or imperfection) of the recording quality. With the strength of Jimi's sizzling elegies and innovative instrumentals, these numbers still sound great, especially if you turn it up. Just feel the blessing of being able to hear the magnificence of the musical Maestro's free and unparalleled playing on that divine day in the valley of the volcano. The recording of sounds and ideas captured here, on this windy, sunny afternoon on the slopes of the Haleakala Crater at the Rainbow Bridge Vibratory Color-Sound Experiment, are a sacred treasure to be valued for as long as there is music… and feeling.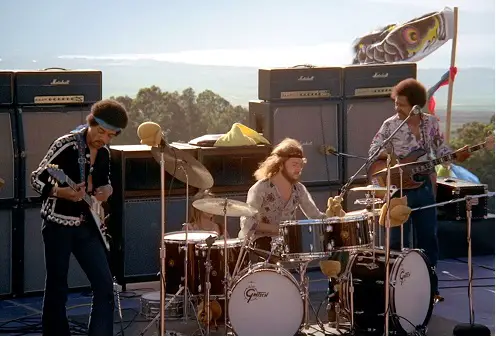 Jimi kicks off the second set with a brand-new song, "Dolly Dagger," one he was preparing in Electric Lady as a new single (to be backed with "Night Bird Flying"), both masterpieces of guitar overlays and evocative incantations. Of course, no one in the crowd at the time knew who he was singing about—Devon Wilson, Jimi's long-time Harlem girlfriend (and heroin addict), who had a thing for Mick Jagger (hence "Dolly Dagger")—but that did not matter… especially once the solos take over. Humorously, Hendrix squeezed in some comic book lyrics (he loved comic books), calling himself "superman shooting his dust on the sun," and "captain cosmic kid on the run," which set up some blazing guitar leads; no need to sing about much else, brother, just play! The Wah-Wah solo at the end is precious: Hendrix in full flight; no one, and I mean no one, plays like this! Listen for yourself and see what I mean.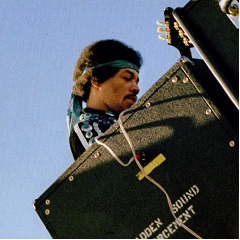 Amazingly, without skipping a beat, his bandmates follow him into a smooth transition to one of those leisurely instrumental solos, "Villanova Junction" (sometimes called "Villanova Junction Blues"). This beautiful spacey jam, yet packed with moments of searing intensity, is what wrapped up the Woodstock movie (as they were cleaning up the trash), though a studio version was not released until decades later. In this counterculture film about the famous rock star-studded festival, released just a few months earlier, Hendrix had become a cultural icon with his astounding version of the "Star Spangled Banner," the highlight of the entire Woodstock concert and event.
The "Villanova Junction" jam's arching wavy lines of melody seem to follow the wind and sunshine as it dances spirals of euphoria in your mind and heart, bending the trees and soothing the wild beast inside, just like Orpheus. It's always been one of my favorite Hendrix jams, for it feels like lazy-time lying on a sandy Hawaiian beach under the blue skies lapping up the smooth consistency of the breaking waves in their endless patterns of crest and trough. At one point it nearly dissolves into silence, just like our thoughts dissolve into "the power of God" (Who IS the Silence Itself). I imagine some felt as if they were surfing the billowing white clouds that had arrived for the party. On this day in Maui, this lingering instrumental jam became the connecting link between two new songs, allowing Jimi to play more for himself and set a graceful mood for the second show.
Then, immediately, with no break between songs, Jimi leads his band into another new up-tempo number, "Ezy Ryder," inspired by the hugely successful movie from the year before (Easy Rider, directed by Dennis Hopper and starring himself, Peter Fonda, and Jack Nicholson). Indeed, the ground-breaking success of Easy Rider, which had featured an amazing soundtrack with one outstanding Hendrix song ("If 6 Was 9"), was a principal motivation—and selling point—for Jeffery's movie Rainbow Bridge (released in the fall of 1971). The Maui movie, however, failed miserably to strike gold twice (even with Hendrix's brief concert appearance). Nonetheless, the song itself is smoking hot, one of Jimi's final masterpieces that he had been exploring for over a year (beginning with Band of Gypsys versions). The studio version has all kinds of multitrack guitar overlays and phasing effects, yet the master musician is still able to capture much of that excitement in the stage version. It is a song of yearning—as was the movie's theme—"riding down the highway of desire, searching for his heaven above, dying to be loved." It wasn't only about Fonda and Hopper, or even Jimi, but about anyone in the audience living life and seeking answers: "We got freedom coming our way," Hendrix tells everyone, then proceeds to let his guitar do the talking leading us into the heavens above "searching for love… Ezy Ryyyyder." Mitch and Billy are definitely riding down the same highway following Jimi's blistering leads until they crash to a resounding ending. The crowd is absolutely ecstatic! New song or not, it hits the spot!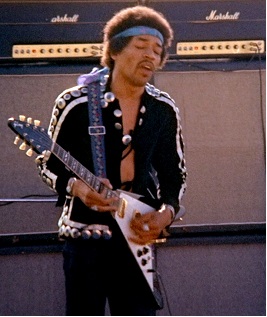 Out of breath. Minds blown. Jimi then slowly glides us into a "blues for the sun" called "Red House," his incredible homage to the great blues masters, a song with as much blues—and ecstasy—than any ever written. This is a slow yet shorter version than what we usually hear at a Hendrix show but it's particularly potent. Maybe because it's the middle of the day with little blues around, but it still evokes a deep place in the soul. Who wouldn't have the blues if your baby "don't live here no more" and had changed the lock on the door? But that's alright, the guitar god tells us, he still has his guitar; thus off we go into a gravity-defying transcendent blues-powered solo harking back to the deepest blues of the African-American experience. By the song's end, after riding waves of orgasmic guitar leads, Jimi confidently concludes that "if my baby don't love me no more, I know her sister will!" Wow, I wish my blues could be healed so easily; guess it would help to be a transcendent guitar rock icon.
Without hesitation, we immediately bounce into another new song "Freedom," a scorching jam that begins with an entrancing heavy riff about getting free of the blues and an upset woman. Somewhat like "Dolly Dagger," Hendrix is yearning for freedom from his twisted lover, since "Freedom" also complains about problems with his promiscuous lover and her other boyfriends. Usually, unless I am personally hurting from a broken heart or cheating lover, I find the lyrics to these frustrated love songs simply set the stage for the rousing chorus where Jimi's lyrics speak directly to all souls: "Freedom! That's what I need now; freedom to live, freedom to give!" Surely, that's what the audience picks up on as well, especially since they had never heard the song before; just being blown away by what was coming from the stage. Freedom is what matters most, not the depressing scenes, for the music will lead us to higher places: "Set me free," Jimi concludes, a really much better place to be.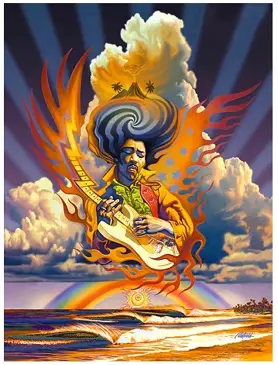 Although "new," these songs with their intensity and abandon, seem to be even more powerful than the older hits. Hendrix's new direction was certainly enticing. Not until next year, with the posthumous Cry of Love album (released in March 1971), would anyone hear the studio versions of these songs expertly recorded in Jimi's new underground studio during the summer right before he tragically died. It is a real pleasure therefore to finally hear these live versions in such great sound quality and the passion Jimi brings to them. They are speaking his mind directly since these new numbers, recorded that summer day on the hills of Haleakala Crater, are some of our last testaments to what was moving Jimi Hendrix's heart and soul.
Appropriately, the Cry of Love band segues into another sprawling instrumental, a delicious jam first debuted at Woodstock in August 1969 (and released on Woodstock Two in March 1971), called "Jam Back at the House" (actually "Beginnings," where the studio version would be released on War Heroes in October 1972). Writing credit was originally given to drummer Mitch Mitchell, but it is an ideal venue for Hendrix to explore jazz-like chord progressions shifting into a series of brilliant guitar leads. The version here, still clocking in over eight minutes, seems to not have been entirely recorded because it jumps in mid-measure right after it begins to pick up speed. Jimi had been working on this song with Mitch and Billy since the summer of '69 at the Shokan house outside the town of Woodstock in upper New York (referenced in the title), thus they both are fully in-synch with its complex progressions. Amazingly, Hendrix never seems to repeat himself in his guitar runs, always offering new phrases and something slightly different, like a jazz improvisation, darting from rhythm guitar to astral traveling somewhere over the rainbow with his stunning solos. Truly, it is astounding (since no other guitarist can compete) how he lays down tightly-executed rhythm patterns to jump into leads then back again to rhythm sometimes mixing them both together—how does he do that? The miracle of Jimi Hendrix!
Once the rhythm has been set so Billy and Mitch can carry it along, they give Jimi space to explore wherever his improvisational skills (and mood) will take him—a true "jazz" master using rock music if there ever was one. No wonder Miles Davis and Gil Evans, both of whom were scheduled to record with Hendrix in the near future, were excited to play with him. Again, sadly, another missed opportunity cut short by his tragic death in the early morning hours of September 18th. Most of these instrumental ventures, unfortunately, are totally missing from the film record, lost to poor planning and inadequate film supply (after all, this isn't a Martin Scorsese project). Thank God, though, we at least have the sound recordings, even though the bass and drums, and particularly the vocals, are somewhat hollow; nevertheless, Jimi's exploratory guitar wizardry allow our minds to follow the notes and float on the highs. It's a truly stunning achievement!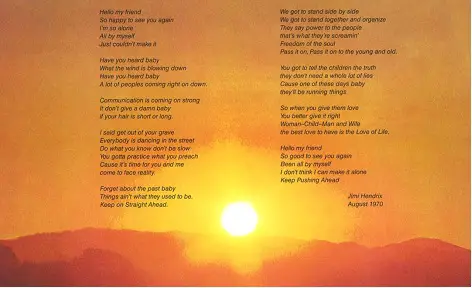 Emerging from the hypnotic "Jam Back at the House" ("Beginnings"), the band transitions directly into "Straight Ahead," another new number where the message is strong, the communication clear (even a possible title for his upcoming album). Hendrix does not speak in dreamy poetics in this song, but bluntly states what's on his mind: "Have you heard, baby, what the wind is blowing around?" an apt song for the gusty day on Maui. His message is direct: "Communication is coming on strong; I don't give damn if your hair is short or long… You gotta tell the children the truth, they don't need a whole lotta lies because one of these days they'll be running things, so when you give 'em love, ya better give it right!" Hendrix is leading us to the light, cleaning up the mess on Earth, and pointing us straight ahead since, according to him, "it's time for you and me to face reality!" Indeed, that is the ideal message for this gathering of the New Age tribe and for the upcoming decade (the dawning Seventies). In fact, it's just as enlightening for the approaching new millennium as well, which we are now twenty years into and still need this positive message as much as ever. It is a message as relevant today as it was back then, even more so, and should be for all time, once again highlighting Hendrix's prophetic powers. Jimi's Electric Church will preach to people for generations to come. This box set, as well as his entire catalog, makes sure of that.
No wonder the next turn in the show has Jimi drop back into a reprieve of the "Hey Baby (New Rising Sun)" groove, this time without lyrics, just riffing on the melodic intro creating a groovy headspace, wherever you're at. I am so pleased with the improved sound quality, the best I've heard in the past fifty years of listening to these shows. Yet, as beautiful as it all is, a shining masterpiece from the Master guitarist, it still makes me yearn for all that has been missed and what could have been if Jimi had not taken too many pills and left this Earth plane. Damn. Do I have to enter heaven first before I will hear new Jimi Hendrix music again? Who knows? Another reason why I relish releases like this from Experience Hendrix, an ideal gift that just keeps on giving.
Overall, since this gorgeous jam points to Jimi's potential future, it seems right that it would end with an intensity of guitar playing seldom attained by even Hendrix himself. Here titled "Midnight Lightning," Jimi cascades into the highest registers of his guitar, shattering us with blasts of bliss and ascending currents of awakening before climaxing to a close. He then immediately breaks into "Stone Free," the B-side to his first hit single "Hey Joe" (released in December 1966), yet this version is revamped and closer to the "Stone Free (Again)" version that was repackaged (and remixed by Alan Douglas) on the critically-abused but stunning Crash Landing album (released in March 1975). Once more, this song seems to summarize Jimi's life story: "Every day of the week I'm in a different city, if I stay too long, people try to put me down; talk about me like a dog, talk about the clothes I wear," but he doesn't care, for he's "stone free to do as I please!" To prove it, he kicks the guitar solo into hyperdrive: "Turn me loose, baby," is the key to his searing solos that have us all knockin' on heaven's door, that is, if you open your third eye (ajna chakra) to the sounds and visions rarely seen while on Earth. No wonder we miss him so much! To come full circle, Jimi throws in a line and lick from "Hey Joe" before improvising another mind-blowing guitar lead (far outshining even his original one on acetate). How does he do that? It seems to be an appropriate ending to his penultimate American concert (before the last American concert coming two days later in Honolulu). We are breathless… and awake!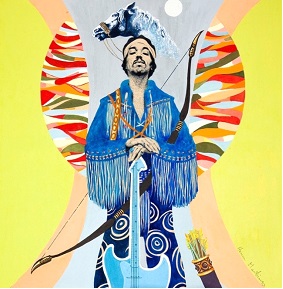 "Thank you very much, good night," ends the set and show… and, unfortunately, Jimi's concert career in the United States. He would only play a few more dates in Europe, during the first couple of weeks in September, particularly at the Isle of Wight festival (attended by over 600,000 people), before dying on September 18 in London. A sad day never to be forgotten. Fortunately, this day in Maui now lives on, sounding better than ever with this brand-new remastered box set, music and film. This release makes sure it is the music, not the money or madness, that will be remembered: the glory of Jimi Hendrix at his peak, not the tragic ending.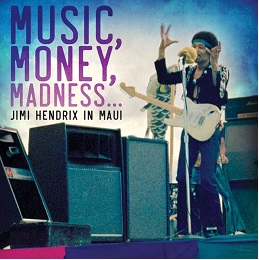 For Jimi, he would spend the next two weeks in August relaxing in the peaceful Maui community, hanging out under the palm trees with the ladies, such as Melinda Merriweather (featured in the documentary), taking some time in the sun, watching the waves, refreshing his soul before returning to New York City and his lovely new studio. He would then hole up with Eddie Kramer over the next two weeks in Electric Lady, through the end of August, perfecting his new recordings before leaving town for the last time (a day after the studio's opening party). Although he would not complete the projected double-LP, nor finalize the song order, these astounding sound paintings of new material, several heard live that day in Maui, would be his final gifts of music and peace to the world.
Soon, the music world would never be the same. The death of James Marshall Hendrix was the "official" end of the Sixties, lost to drugs or foul play, but gone. The doors to Jimi's Electric Church would close forever except for a string of stellar remastered releases sadly reminding us who and what we had lost. But this is no time to cry and moan or sing the blues, for we have seen and heard the Electric Prophet at his altar of sound, the amplified Messenger of God, the Voodoo Chile-Astro Man, a decent human being and kind, gentle soul here to grace our Earth and stereo systems. Let's celebrate! Hendrix was, in my view, the brightest and most gifted ray of the rising New Age that still may take centuries to fully realize and manifest. But that's okay, no worries. Keep on straight ahead, brothers and sisters! Feel the love, put on some Hendrix tunes and turn it up LOUD! A New Aquarian Age is a-rising.