NOW ON KINDLE: The Corona Conspiracy: Combatting Disinformation about the Coronavirus
INTEGRAL WORLD: EXPLORING THEORIES OF EVERYTHING
An independent forum for a critical discussion of the integral philosophy of Ken Wilber
Today is:
Publication dates of essays (month/year) can be found under "Essays".


Frank Visser
, graduated as a psychologist of culture and religion, founded IntegralWorld.net in 1997. He worked as production manager for various publishing houses and as service manager for various internet companies and lives in Amsterdam. Author of "
Ken Wilber: Thought as Passion
" (SUNY Press, 2003), which has been translated into 7 languages, and of 175+ essays on this website.
SEE MORE ESSAYS WRITTEN BY FRANK VISSER
The Corona Conspiracy
Combatting Disinformation about the Coronavirus
Frank Visser
DOWNLOAD AS FREE PDF
10 MB, 256 pages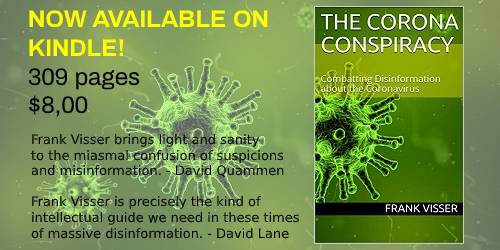 "I have started to read your series with high interest." - David Quammen (author of Spillover and writing a new book on the current pandemic)

THE CORONA CONSPIRACY
Combatting Disinformation About the Coronavirus
DOWNLOAD AS PDF
|
READ ON KINDLE
Part 1: Corona, Oxygen, 5G: The Paranoid Worldview of David Icke
Part 2: Debunking Andrew Kaufman's Virus Equals Exosome Hypothesis
Part 3: We Need to Talk about Exosomes
Part 4: Why Viruses are Not Exosomes
Part 5: The Alternative Facts of Virus Denialism
Part 6: The Subtle Science of Whole Genome Sequencing
Part 7: Stefan Lanka's Vanishing Virus Act
Part 8: Coping with Corona: The Cautious vs. The Reckless
Part 9: Andrew Kaufman's Take on the Pandemic That Wasn't
Part 10: Between Alarmism and Denialism
Part 11: David Icke and the Method in the Madness
Part 12: How the Coronavirus Conquered the World
Part 13: To Test or Not to Test, That's the Question
Part 14: Pandemic, Infodemic, Scamdemic, Plandemic?
Part 15: The "Chromosome 8 Bombshell Evidence" Canard
Part 16: What's Up With These Koch's Postulates?
Part 17: Was the SARS-CoV-2 virus created in a lab?
Part 18: QAnon, When Conspirituality Meets Politics
Part 19: Thomas Cowan and "The Myth of Contagion"
Part 20: PCR-Gate: A Storm in a Petri Dish?
A summary of early parts of this series has appeared in the Dutch magazine
Skepter
33(3), September 2020, as "Viruses don't exist" (covering Parts 1-5). German:
Skeptiker
(December 2020); English:
Skeptic.org.uk
(January 2021).
Comments containing links will be moderated first, to avoid spam.

Our moderation system seems out of order. We are currently looking into this.
You can still post comments but I can't moderate comments containing URLs.
If you include URLs in your comment, please delete the protocol part: http://.
In those cases, the links will not be clickable, but moderation is skipped.