NOW ON KINDLE: The Corona Conspiracy: Combatting Disinformation about the Coronavirus
"Very useful in this time when wild, unsupported ideas are flying everywhichway." (David Quammen)
INTEGRAL WORLD: EXPLORING THEORIES OF EVERYTHING
An independent forum for a critical discussion of the integral philosophy of Ken Wilber
Today is:
Publication dates of essays (month/year) can be found under "Essays".
VISITORS TO THE
INTEGRAL WORLD WEBSITE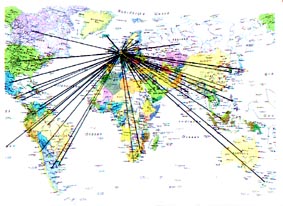 Visitors to this site
come from the following
200
countries
(in descending order):
United States, Netherlands, Germany, Canada, Australia, United Kingdom, Mexico, Belgium, Ireland, Sweden, Spain, Malaysia, Italy, Switzerland, Singapore, Japan, Danmark, Poland, Thailand, Norway, New Zealand, Chile, Brazil, Portugal, Finland, France, South Korea, Austria, Cuba, Kroatia, Greece, Ukraine, Swaziland, Argentina, Rumania, Turkmenistan, India, South Africa, Colombia, Peru, The Phillippines, United Arabic Emirates, Venezuela, Russian Federation, Hong Kong, Luxemburg, Taiwan, Israel, China, Hungaria, Letland, Uruguay, Fiji, Iceland, Nicaragua, Gibraltar, Saudi Arabia, Guatemala, Slowenia, Oman, Slowakia, Former USSR, Indonesia, Honduras, Estland, Egypt, Ecuador, Bosnia/Herzegovina, Pakistan, Lithuania, Turkey, Czechia, Bermuda, Puerto Rico, Qatar, Brunei Darussalam, Bulgaria, Bolivia, Lebanon, Trinidad and Tobago, Macedonia, Georgia, the Cayman Islands, Uganda, Costa Rica, Paraguay, Nigeria, El Salvador, the Dominican Republic, Vanuatu, Cyprus, Gaum, New Caledonia, Nepal, St. Helena, Niue, Guam, Tonga, Panama, Sri Lanka, Kuweit, Zimbabwe, Macau, French Guyana, Iran, Mauritius, the Turks & Caicos Islands, Vietnam and San Marino, Kazachstan, Belize, Bahrein, Dutch Antillen, Andorra, Mongolia, Botswana, Faroer Islands, Namibia, Bangladesh, the Bahamas, Jordania, Samoa, Tanzania, Ethiopia, Malta, Barbados, Antigue & Barbuda, Papua New Guinea, Serbia and Montenegro, Sudan, Cambodia, Aruba, Maldiven, Lebanon, Congo, Ivory Coast, Paraguay and Liechtenstein, Afghanistan, Myanmar, Moldavia, Uzbekistan, Vatican City, Virgin Islands, Ghana, North-Korea, Benin, Rwanda, Kiribati, Kirgizia, Libya, Jamaica, Bhutan, Tunesia, Cameroun, Mali, Algeria, Mozambique, Senegal, Azerbedjan, Suriname, Gambia, Palau, Cooke Island, French Guyana, Cape Verde, Dominica, Greenland, French Polynesia, Haiti, Tadzjikistan, Anguila, Iraq, Eritrea, Faeroer, Micronesia, Jemen, Palestine (occupied territory), Syria, Laos, Maledives, Monaco, Albania, Armenia, Libanon, Belarus, Kenya, Yugoslavia, Cocos Island, Marocco, Slovenia, Estonia, Rumenia, Croatia, .


| | | |
| --- | --- | --- |
| United States | Europe | Rest of the world |
| 75% | 20% | 5% |
Comments containing links will be moderated first, to avoid spam.