NOW ON KINDLE: The Corona Conspiracy: Combatting Disinformation about the Coronavirus
"Very useful in this time when wild, unsupported ideas are flying everywhichway." (David Quammen)
INTEGRAL WORLD: EXPLORING THEORIES OF EVERYTHING
An independent forum for a critical discussion of the integral philosophy of Ken Wilber
Today is:
Publication dates of essays (month/year) can be found under "Essays".
Tomer Persico
(PhD), a lecturer at the department for Comparative Religion in Tel-Aviv University, teaches at the Secular Yeshiva in Jerusalem, and is scheduled to teach next year at the Hebrew Union College. He is an expert on contemporary spirituality, and studies the varied current cultural phenomena of the New Age, specializing in its intersection, and tension, with the Jewish tradition in general, and Halakha in particular. He has contributed numerous articles to newspapers and periodicals in Israel, and writes the most popular blog in Hebrew on these subjects. He will also be teaching in the Schechter Institute next year.
Reposted from tomerpersicoenglish.wordpress.com with permission of the author.
See also: PART I: Andrew Cohen Steps Down as a Guru
Andrew Cohen and
the Decline of
the Guru Institution
Part II: Interview with Amir Freimann
Tomer Persico
Anyone who decides to enter into such a relationship with a teacher should take into account both the rare opportunity and the huge risk involved.
While I have had several spiritual teachers, I have never had a guru – one particular main (or exclusive) teacher to whom had to submit myself and open my heart, trusting him to take me, hand-in-hand, to the end of the road. There are many reasons for this, one of which I am sure, is my excess of pride and ego. In order to surrender, one has to give up one's independence and I've always been too proud to do that.
Do not hurry dear readers, to conclude that it is such a good thing that I've never submitted myself in such a way. There is a great spiritual secret in surrender, and sometimes it is surely necessary. Surrender to an external authority is no more than, when all is said and done, acknowledgment of the uncertainty of life and of our feebleness in the face of the forces of the universe – recognition of just how diminutive we are.
Along with its risks, total obedience can be a powerful tool for self-knowledge and development. If indeed "a man's greatest possession is his choice", then relinquishing one's choice is relinquishing one's greatest possession – and there are important things to be learned from such relinquishment, from such surrender.
The guru institution is in trouble. This is not, however, one of the signs of the Age of Aquarius or of a new spiritual dawn. The spiritual teacher is not some remnant from the past that can now be discarded, since we are now modern, progressive and oh-so-clever individuals. Anyone who assumes that we have hindrances and conditionings that we cannot liberate ourselves from on our own (either because we do not see them, or because we do see them but are tempted by them), also assumes that we need help. The guru constitutes a particular, intense, kind of help.
It is hard to believe that spiritual development that would not include inter-subjective relationships would be possible at all. No Man is an Island, wrote John Donne and as Wittgenstein added – no language is private. The guru constitutes – along with the spouse and the parent – a highly significant "significant other". The reflections that we are able to receive from the psychological mirror provided by someone close to us can be invaluable - especially if that individual possesses depth and wisdom.
However, as we have been made aware, such relationships are liable to become exploitive and destructive. In a previous article, we touched on the demotion of Andrew Cohen, one of the most well-known spiritual teachers of our time. In order to explore the guru issue, as well as the issue of Andrew Cohen, I asked my friend Amir Freimann to share some of his experiences and insights. Freimann, currently an important social activist in the field of education, director of the Education Spirit Movement, spent twenty-two years of his life in Andrew Cohen's community, until he left it five years ago. I asked him a few questions:



-0-0-0-
What made you give so many years of your life to a teacher? What did Cohen give you in your spiritual path?
First of all, perhaps above all, meeting him created within me a commitment to the spiritual life. Until I met him I had one foot in the "worldly" world – studies, career, fame, money, women and the other foot in the "spiritual" world – existential questions, love for the mystery, attraction to the sacred, religious feelings. Even the two years I spent in a Zen monastery in Japan with a wonderful Zen teacher did not lead me to change that ambivalent position. As a result of my meeting Andrew and spending time in his company and as a result of the confidence he gave me in the validity and significance of the spiritual journey, I planted both my feet in the spiritual world. This meant that I availed myself fully to the process of closing the gap between my deepest experiences and insights and who I am as a human being.
In addition, when I met Andrew, at the age of 29, my life revolved around myself and even my "spiritual aspirations" were completely self-centered. I didn't really care about other people – unless they could be of some benefit to me. Of course, I wasn't aware how egocentric I was – how could I have been aware of it? But when I left the community five years ago, at the age of 50, I could say whole-heartedly "that life is not for me" and commit myself to work aimed at profound internal development of our society and culture, as well as of individuals and groups that I come into contact with and form friendships and collaborations with.
There's something else too – thanks to Andrew I had the opportunity to participate in profound spiritual work in a community of serious, intelligent and committed people, for a period of two decades. I don't think that such communities and such endeavors can really exist without the guidance of a spiritual teacher. I have not encountered or heard of such situations. I'm referring to a process in which I faced and engaged with many of the conditionings that distort and limit my human-ness -, the free, full and creative expression of who I am and of who we are as human beings.
You said that meeting Andrew helped you decide to commit yourself to the spiritual journey – what was it in your meeting that caused that?
I felt that he knew exactly what I was talking about and that his confidence and conviction were based not upon belief but upon his personal experience.
When I met Andrew, in the summer of 1987, I was at the end of the fifth year of medical studies in Jerusalem. A good friend of mine, who had already met Andrew in Europe, told me that a "spiritual teacher" was visiting Israel and invited me to join them for dinner. I remember the first impression Andrew made on me – I was surprised by how young he was (around my age) and by his odd laughter. I thought to myself: "He's just a typical neurotic Jewish guy from New York…" It was not at all how I expected an "enlightened teacher" to be, but during that evening, in which we spoke for hours about enlightenment, time and spiritual practice, I sensed that the man was the most open and vulnerable, unassuming and unpretentious person I had ever met. I felt that in his presence, a kind of tough knot within me started to relax and dissolve.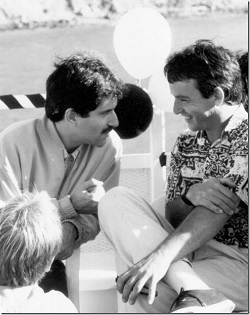 At one point during that evening I asked him what he thought the reason was that I was not yet enlightened, even after years of spiritual practice. He looked at me for a while and said "because you're afraid". I had no idea what he was talking about. "What do you think I'm afraid of?" I asked. He replied that I would have to answer that question myself. That night I sat on my bed for hours and tried to work it out what it was that I was afraid of, until I found an answer that satisfied me. In the morning I called him and asked to meet him. When we met I told him that more than anything I was afraid that I would waste my life and die without knowing who I am, what it's all about and what I am here for. I'll never forget the look on his face when I said that – he was so happy! Then he looked at me very seriously and said: "You should treasure that fear, it will take you all the way."
It was the first time in my life that somebody validated, with such confidence and conviction, my search for answers to the "big questions" and the possibility that I would find those answers myself. I felt that he knew exactly what I was talking about, and that his confidence and conviction were based not upon belief but upon his personal experience. Looking back, I think that it was that validation and his confidence and conviction – which he expressed again and again in different ways – which enabled me, within a few weeks, to undergo a breakthrough. The breakthrough came in the form of a series of experiences, which transformed me from a "spiritual seeker" to a "spiritual finder" and completely changed my priorities in life. As a result, I decided that my overriding purpose in life was to live an "enlightened life". Since I lost all interest in my previous ambitions, I left medical school, left Israel and went to England to be in Andrew's company and continue with him, the process of my spiritual awakening.
I'm very moved by that story. But after all that beauty, what led you to become disillusioned and leave Andrew and his community 5 years ago? Was it related to the latest developments?
Suddenly the magic was gone. As soon as I said "no" to him, I ceased regarding him as my teacher.
The reasons for my leaving were very much related to the reason for which he was recently demoted. However, at the time when I left, neither I nor Andrew's other senior students realized quite how severe the problem was. At that point I saw the reasons for my leaving as personal and specific to me. I didn't realize that they were actually related to a fundamental and serious problem in Andrew's conduct and in all our relationships with him. Only over time, particularly since I heard the news of his stepping down and read his apology and the criticisms of him, have I started to see how my story was only a symptom of a malignant condition.
Anyway, my leaving was triggered by two issues relating to Andrew and to his community. The first was that I felt that instead of moving forward and discovering new territory, as I had felt during the first 15 years or so in the community, we were now going around in circles. Despite all the bells and whistles, we weren't actually going anywhere, we weren't developing. The second issue, which I began to become aware of about a year before I left, was that although we said that our purpose was to participate in the evolution of consciousness and culture and facilitate it, in fact we were investing all our energy in attracting people to join us, to join our specific spiritual teaching. You could say that I started becoming aware of our ego, as a spiritual movement and as an organization, and I started feeling increasingly uncomfortable with it.
At the time I was co-managing the center in Israel, and I decided that if we really wanted to contribute to the development of the society and culture here, then we have to go out and get involved with what was happening in the society and culture, rather than keep busy only with our small center in Jaffa. The moment I started doing that, I started flourishing. Within a few months I was managing an online community called "Spiritual Culture", interviewing cultural leaders for a column I had in Ynet, called "I Have a Dream", collaborating with a group of educators to establish the "Education Spirit Movement" and connecting with all kinds of people who are contributing, with deep commitment and a lot of spirit, to the cultivation of depth in our society. You could say that I discovered that I have brothers and sisters outside of the community as well and even outside the so-called "spiritual world".
Initially, to my surprise, Andrew supported me in that endeavor but at some point he must have decided that I and the Israeli center were becoming too independent, and to put a stop to that. He demanded unequivocally that we focus our energy on "inter-organizational" activities related to his teaching. At that point I started doubting his motives and developed an increasing sense of grievance towards him. Then, while I was visiting the community's world center in the USA, he called me for a meeting and told me that he had decided to close the center in Israel and that he wanted me to return to the US and be part of the "core group" around him. At that moment something broke within me. I knew that he was completely wrong and that I shouldn't acquiesce – that complying with his instruction would mean I would be betraying myself and all the people I had developed connections with in Israel. Suddenly the magic was gone. As soon as I said "no" to him, I ceased regarding him as my teacher. I returned to Israel as a "free man" and although I went through a lot of pain as a result of leaving him and all my spiritual comrades, who had comprised my entire world for the last 20 years, I was in no doubt that I was doing the right thing. Everything that has happened since then showed me that I was right.
From the perspective of a very committed disciple, who also knew when to move on, do you think that the "guru institution" has validity in the current Western spiritual world?
The highly unusual relationship between a spiritual teacher, rabbi or guru, and the disciple, has always offered an extraordinary opportunity for spiritual growth – as well as fertile ground for sexual, financial and mental abuse and for all kinds of pathologies. Anyone who decides to enter into such a relationship with a teacher should take into account both the rare opportunity and the huge risk involved. The way I see it - if the individual making the decision is relatively mature and sane, the responsibility for this decision and its consequences ultimately lies with him or her.
I may not be an objective judge regarding myself but it seems to me that I came out of my 22-year relationship with Andrew a better person than when I entered it – and I can testify that some of my friends in the community underwent a process of significant mental and spiritual deepening and growth. Others, as you know, had quite a different experience, and came out hurt and traumatized from the very same situation.
Based on my impressions of other spiritual communities led by a teacher, it seems to me that in those communities you often find a kind of spiritual work that would not be possible under different conditions. Yet so many people come out of such communities hurt and psychologically damaged, including people from Andrew's community, that the damage often seems to outweigh the benefit.
What, then, are we to conclude about the validity of the "spiritual teacher institution" in our era? The conclusion is unclear to me, especially because I don't yet see a proven substitute for this institution. I can try to imagine one but I haven't yet seen one that actually works, so for me, the question remains open.





Comments containing links will be moderated first, to avoid spam.