TRANSLATE THIS ARTICLE
Integral World: Exploring Theories of Everything
An independent forum for a critical discussion of the integral philosophy of Ken Wilber

David Christopher Lane
, Ph.D. Professor of Philosophy, Mt. San Antonio College Lecturer in Religious Studies, California State University, Long Beach Author of
Exposing Cults: When the Skeptical Mind Confronts the Mystical
(New York and London: Garland Publishers, 1994) and
The Radhasoami Tradition: A Critical History of Guru Succession
(New York and London: Garland Publishers, 1992).
SEE MORE ESSAYS WRITTEN BY DAVID LANE
Four Scientists Who Changed the World
Introduction
David Lane
Perhaps the greatest lesson of all in science is that admitting to one's mistakes is in itself no mistake.
We live in amazing times primarily because of the great advances science has made since the era of Galileo Galilei (1564-1642). Whereas the average lifespan in the 16th century was roughly around 39 years, today we can expect on average to live close to 80 years. We take for granted luxuries that were mostly unimaginable in years past—from air conditioning to antibiotics to jet airlines to a cornucopia of nutritious food. These benefits and many more are the result of scientists trying to best understand the world around us without relying on mythological stories of the past or outdated religious ideas.
While there are countless numbers of scientists who have contributed to our well-being, there are a few that stand out amongst the rest for their remarkable accomplishments. I recently came upon an old book entitled Famous Men in Science by Sarah Knowles Bolton that was first published in 1889. In her enjoyable and easy to read text, Bolton provides a glimpse of fourteen distinguished thinkers, ranging from such luminaries as Carl Linnaeus to Louis Agassiz.[1]
Since the book is not readily available, here at the MSAC Philosophy Group we thought it might be helpful to select four biographies from Famous Men in Science and republish them in a new and readable format. To cover some of the major breakthroughs in the past four centuries we have chosen Galileo (astronomy), Newton (physics), Lyell (geology), and Darwin (biology). It is our hope that these small biographical vignettes will serve as intellectual appetizers and may whet the reader's appetite for more.
In reading over the life and work of these eminent scientists one comes away with a great and renewed hope for humankind and one can better appreciate why so many great thinkers today echo Bernard of Chartres famous words who opined nanos gigantum humeris insidentes (standing on the shoulders of giants). Although Newton's citation of the same is more well known ("If I have seen further it is by standing on the shoulders of Giants"), his use of the phrase, some conjecture, was a not so subtle way of slighting his contemporary rival, Robert Hooke, who reportedly had a small frame and suffered curvature of the cervical and lumbar regions of the spine. I bring this up here because I think it is important to realize that even though science is an extremely laudable enterprise, it is a thoroughly human affair and thus even the most impressive of scientists may display common weaknesses and foibles.
For instance, one may be surprised to learn that Galileo for all of his adventurous spirit actually recanted his belief in the Copernican notion that the earth revolves around the sun. As the noted Harvard Professor of Law, Alan Dershowitz, summarized in his Introduction to The Galileo Affair by Maurice A. Finocchiaro, "Galileo went even further and abjured as "completely false" the opinion that the "sun is the center of the world . . . . and the earth is not the center of the world and movies."
But, Dershowitz points out that even though Galileo perjured himself (allowing himself to be given a lesser sentence), his ideas couldn't be dismissed, since "ideas can be destroyed only by a different kind of trial—the trial of history, which no tyrant has yet been able to control."
Science is perhaps the greatest single process ever developed in the human mind. It is our ability to guess and to experiment and then test our observations and predictions against others in the same pursuit. But the linchpin in all of this is our ability to admit to being wrong or mistaken in our map making and thus allowing for new changes and improvements. The fundamental difference between science and religion is often overlooked. Religion presumes to already know the truth and thus attempts to conform humankind to its particular revelations, whereas science makes no such presumption and wants to discover how the world works and therefore tests its observations in the here and now, always open to being corrected in time when new information arises.
I often tell my students that the genius of Darwin is not only that he uncovered the mechanism of natural selection and how evolution could occur without a designer, but that in just one sentence he told his numerous readers how his entire theory could be dead wrong.
Perhaps the greatest lesson of all in science is that admitting to one's mistakes is in itself no mistake.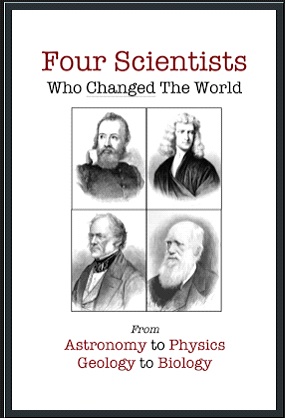 NOTES
[1] Full content of Famous Men in Science:
GALLILEO GALILEI
SIR ISAAC NEWTON
CARL LINNAEUS
BARON CUVIER
SIR WILLIAM AND CAROLINE HERSCHELL
ALEXANDER VON HUMBOLDT
SIR HUMPHRY DAVY
JOHN JAMES AUDUBON
SAMUEL FINLEY BREESE MORSE
SIR CHARLES LYELL
JOSEPH HENRY
LOUIS AGASSIZ
CHARLES ROBERT DARWIN
FRANCIS TREVELYAN BUCKLAND