TRANSLATE THIS ARTICLE
Integral World: Exploring Theories of Everything
An independent forum for a critical discussion of the integral philosophy of Ken Wilber

David Christopher Lane
, Ph.D. Professor of Philosophy, Mt. San Antonio College Lecturer in Religious Studies, California State University, Long Beach Author of
Exposing Cults: When the Skeptical Mind Confronts the Mystical
(New York and London: Garland Publishers, 1994) and
The Radhasoami Tradition: A Critical History of Guru Succession
(New York and London: Garland Publishers, 1992).
SEE MORE ESSAYS WRITTEN BY DAVID LANE
Prologue | Part I | Part II | Part III
White Cranes
Against a Black Sky
The Ecstatic Visions of Sri Ramakrishna
A Chandian and Nietzschean Analysis
A Three-Part Study, Prologue
David Lane
Prologue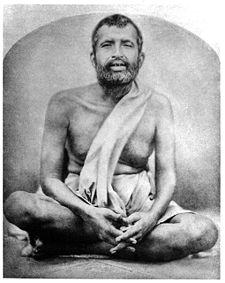 I read about this incident many years ago in a biography of Indian saints that I happened upon in the graduate library at the Graduate Theological Union in Berkeley and it has haunted me ever since. It describes a young Indian boy who falls into a state of ecstasy while walking in a village field in Bengal, India, during the mid part of the 19th century when all of sudden he sees a black rain cloud and then majestically a flock of white cranes flying in the sky. The juxtaposition of the two opposite colors was overwhelmingly beautiful. The very sight sent him into samadhi (divine ecstasy) and he fell unconscious. Later, this very boy would become world famous as Sri Ramakrishna. I have always wanted to tell this moving story in a short movie. After I finished the little film (included here), I became even more keenly interested in other visions that Ramakrishna had throughout his relatively short lifetime (he died at the age of 50). Having already read almost everything I could about Sri Ramakrishna, particularly the famous Gospel as recorded by Mahendranath Gupta and later translated into English by Swami Nikhilananda, I realized that there was something unique and profound about his insights, more so because he was not formally educated.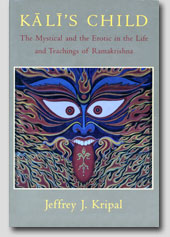 I have given lectures about Ramakrishna and his disciples, especially Swami Vivekananda, in many of my courses on religion at various universities and colleges, including the California School of Professional Psychology, California State University, Long Beach, and Mt. San Antonio College. These presentations got a bit controversial after I included Jeffrey Kripal's contentious 1995 study, Kali's Child, which, claimed among other things, that Ramakrishna's spiritual experiences were in part caused by early childhood trauma, perhaps sexual in nature, which manifested later on with pedophilic and homoerotic overtones. I remember that one official at the Vedanta Society of Southern California (a religious organization centered on the teachings of Sri Ramakrishna and his subsequent followers) that took umbrage that as a Professor I would have my undergraduate students read such a scandalous and inappropriate text. Indeed, he wrote me a very long and detailed rebuttal to Kripal's thesis, pointing out (not incorrectly I should add) that Kali's Child contained several faulty translations from the original Bengali and because of this had arrived at a number of spurious conclusions. While I realized that Kripal's book was upsetting, I felt that it at least opened up a whole new line of discussion about religious visions even if his own psychoanalytic analysis of such missed the mark.
There is something more to Ramakrishna's mystical experiences than mere Freudian sexual repression.
There is something more to Ramakrishna's mystical experiences than mere Freudian sexual repression and I think it is important to provide a wider purview to what may have transpired in his life, even if we furnish a neurological and sociological framework to them.
The following study, which has been divided into three parts, describes many of Ramakrishna's ecstatic states or samadhis and what may have precipitated them. More importantly, though, I have dovetailed the Bengali's religious visions with those of Baba Faqir Chand, the famous "unknowing sage" of Hoshiarpur, who, coincidentally, was born in the same year that Ramakrishna died. Faqir, like his Bengali predecessor, also experienced a wide variety of spiritual experiences but gallantly tried to explain them as being mind generated and not due to some exterior divinity, even as he championed the interior quest. Adding to this analysis, I have also included the pioneering insights of Nietzsche since he understood better than most the psychology behind why religious beliefs can be so powerful.